Transparent about sustainability
Sustainability of paintwork and maintenance requires transparency about the products.
What is the impact of your paintwork on the climate?
In order to get a grip on the environmental impact of your paintwork, you need insight into the sustainability of the products you work with. We are happy to help you, with transparent information about the sustainable characteristics of the Ralston paint systems.
Quality in sustainability
Always the best colour results and best coverage. As a family business, it's in our DNA to invest in innovation and sustainability. We use bio-based raw materials, strive for the lowest possible CO2 emissions, long outdoor durability and colour retention.
What is the CO2 footprint of Ralston products?
We have clearly set out all the facts about our sustainably produced wall paints and lacquers. Such as CO₂ emissions per product, including how we measure those. We want to continuously improve this, so the table remains dynamic with constantly updated information – measuring progress in sustainability, that's what we aim for.
With this information you can make conscious choices for your paintwork and make an active contribution to a sustainable future together with your customers.
* This is the total CO2 emissions released during the product life cycle, including packaging, until the moment the product leaves our warehouse. The CO2 emissions are expressed in CO2 equivalents. To determine the CO2 emissions, we use the Ecochain method. For the lacquers we have used the product variant 'Basic White' in a 2.5 litre packaging. For the wall paints we have used the product variant 'White' in a 10-litre packaging.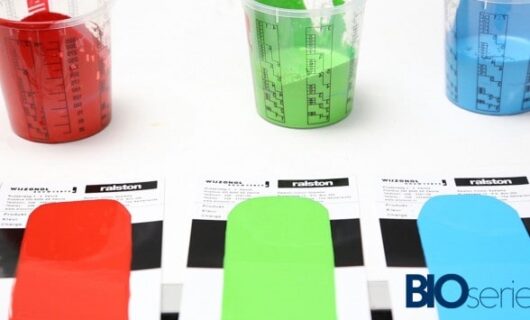 Revolutionary sustainable paints
Sustainability is in the DNA of Royal Van Wijhe Verf, a robust Dutch family business, the makers of Ralston. Always looking for innovative sustainable coating solutions. Paint from and for generations.
Follow Ralston on social media
Follow the latest developments, get advice and inspiration
Discover our quality marks