A proud history and a forward vision
On 1 April 2016, Van Wijhe Verf, a Zwolle-based paint manufacturer, celebrates its 100th birthday. On that very day, one century earlier, Mr D.H. van Wijhe and Mr D. Vermeulen established a wholesale business in chemists supplies and paints. One hundred years later, the family of Van Wijhe –now in its fourth generation – is still in charge of the company, which has grown to become an innovative manufacturer of premium painting products for the home and international markets with brands like Wijzonol, Ralston, OER en Marlise. A proud history and a strong forward vision.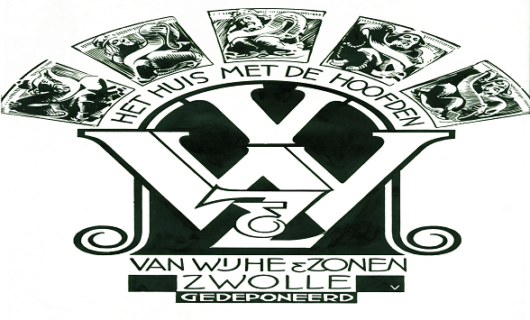 As an independent family business, in an industry dominated by multinational corporations, Van Wijhe Verf is a remarkable player. With its traditional Dutch image and household brand Wijzonol for the professionals and DYO trade, Van Wijhe Verf has a strong grip on the Dutch home market. Faithful to its roots the company and its production facilities and laboratory are still based in Zwolle, although Van Wijhe Group today includes a national paint wholesaler with 11 branch locations and a steadily growing export business, Ralston Colour & Coatings.
Sustainable innovations
With no shortage of interested buyers, the Zwolle based manufacturer has consistently protected its independence, proving, time after time, that family owned businesses are the backbone of the economy. The company has weathered the downturn in the construction industry and has emerged even stronger with a powerful focus on research and sustainable innovations. As the building industry cautiously recovers, Van Wijhe is prepared for the future with a range of new developments. Solutions which, typically, combine traditional skill with innovative technologies and new insights. For example, the company in one fell swoop replaced its full range of interior wall paints made with fossil-fuel based binders by equal-quality products based on renewable bio based binders. A notable product launch, also, is the patented floor coating engineered for instant UV curing, which dries at the speed of light and is free of solvents. Another product range in which sustainability meets traditional craft is the OER brand, based on an authentic linseed oil recipe of the Van Wijhe family adapted to the needs of today: fast-drying and long-life. Extending the lifespan of products, incidentally, has been a spearhead for the complete range of Van Wijhe Verf, and has now reached a pinnacle with LBH Silicon Alkyd High Gloss finishing paint: this new exterior paint has an average lifespan of 8 to 10 years.
We think in terms of generations
It is precisely these kinds of innovative, sustainable developments that are the living, breathing reality of a long term vision: a company that's proud of its history, but, above all, has a forward view that spans generations. 'As a family business, we're not concerned with the quarterly figures or even a year end result. We think in terms of generations', says the company's current managing director, Marlies van Wijhe, who has been at the helm of the company and its 250 employees since 2000.
'As a family business, we're not concerned with the quarterly figures or even a year end result. We think in terms of generations'
 'Four generations long, we've provided care and protection to things that are valuable, and we've added colour to our environment. Why? Because we want to make the world a little more beautiful, now, and in the future. That is why we're committed to sustainable solutions, developing products which, in their composition, style of usage or life span, contribute to making the world a little brighter, happier. Call it self-willed if you wish, because that's who we are, and we're proud of it. We enjoy doing things our way, and we're not afraid to stray from the beaten path. It takes courage, determination, and passion. Qualities you'll find everywhere in our company, and that we pride ourselves lucky to have'.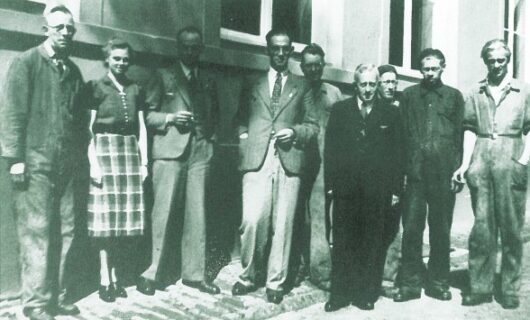 Van Wijhe Verf gentlemen in front of the plant