"Sustainable paint is not only about bio-based raw materials"
Thursday, 12. December 2019
The Dutch paint and coatings producer Royal Van Wijhe Verf has been awarded with the prestigious title "Best For The World" for its high environmental standards and commitment to sustainability. We spoke with CEO Marlies van Wijhe about the title and the companies commitment.
You have been honoured by "B Lab" with the title 'Best For The World 2019' in the 'Environment' category for the third year in a row. Could you please explain this recognition?
Marlies van Wijhe: We are honoured to be "Best For The World" for the third year in a row. We are recognized for having the highest environmental impact by earning a score in the top 10% on the B Impact Assessment of all B Corp companies. The vision of our company is that urgent environmental and climate problems demand us to do our work in a sustainable way. As a manufacturer of paint we believe that protection and colour will be important in the future as well. We at Royal Van Wijhe Verf never considered sustainability as a trend. Being sustainable is a necessity and asks for continuous innovation: for the world and for continuity of our company for future generations.
To be honoured by B Lab you have to set new and progressive goals. What are these goals for the next year?
Wijhe: Our purpose is to reduce the use of fossil fuels every year by using bio-based raw materials in our products. In our production process we aim to reduce the volumes of hazardous waste by 10% per year. We invested in a new waste water treatment system to improve the separation of paint residue from our waste water. We have the ambition to increase our B Corp score year by year. We believe we can do a lot ourselves, but we know we will be more successful with partners who have the same purpose. We need everybody in the value chain. Marlies van Wijhe is CEO at Royal Van Wijhe Verf wants to
develop paint that can be flushed down the sink without harming the enviroment.
You mentioned the reduction of fossil raw materials through the use of bio-based raw-materials. How high is the share of bio-based raw materials in your paints and coatings?
Wijhe: Several years ago we adopted a product strategy that is based on the use of bio-based raw materials and superior performance of our products in respect to durability. We were the first paint manufacturer who introduced a bio-based wall paint in 2015. Today a lot of our products contain bio-based raw materials. For example our exterior lacquers have a bio-based content of 40 to 60%. And our wallpaints 20 to 40%.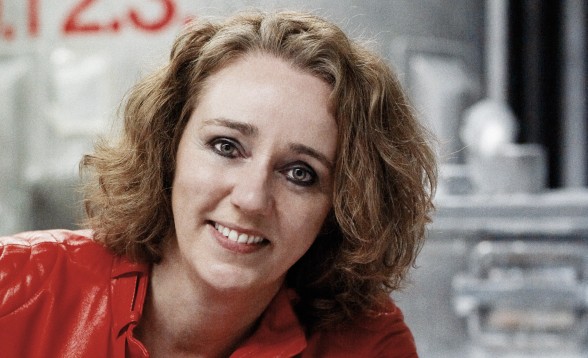 But sustainable paint is not only about bio-based raw materials. Our developments are also focused on reduction of emissions of our products and production processes. Over recent years we have created a database with all the CO2-footprint information of our products. We now know exactly which raw materials and which parts of our production process influence CO2 emissions and to what extent. We are using this knowledge in order to evaluate and plan improvements on the footprint of our products. In improving our production processes, we always consider the environmental consequences: we use LED-lighting, we promote the use of electrical cars, we use a geothermal heating system to heat our newest offices and we separate our waste streams in to 25 dedicated waste streams. 
Since the beginning of 2018 90% of our volume of wall paint is packed in buckets, fully made of recycled plastic from consumer waste (post-consumer recyclate). We initiated the development of the 100% post-consumer recyclate paint bucket together with the manufacturer of plastic buckets and the PVC raw material recycling company. This successful collaboration has resulted in a high-quality paint bucket that is now adopted by several paint manufacturers. 
Where do you see the biggest challenges for bio-based raw materials used in paints and coatings?
Wijhe: Our progress in development of bio-based products is dependent on the availability and pricing of new raw materials. That is why we work together with universities and raw material suppliers. Without these partnerships it is hard to improve our products as quickly as we do now. We have many product ideas for future developments. We hope to realize these ideas when they become technically feasible. And of course, that these sustainable products will be adapted by the customer (price wise). This will be different in every country.
To what extent do you see further potential for increasing the share of bio-based raw materials in the paints and coatings industry?
Wijhe: The paint industry has still a long way to go. We believe that in the future it becomes possible to flush paint down the sink without harming the environment. It is hard to predict when and yet we don't know how. But we believe there will be no modern sustainable future without a substantial dose of innovation.
The interview was conducted by Damir Gagro