Royal Van Wijhe Verf is 'Best For The World 2019'
Zwolle, 4 September 2019 – We are proud to announce that for the third year in a row Royal Van Wijhe Verf and therefore Ralston, has been honoured by B Lab with the title: 'Best For The World 2019' in the 'Environment' category. Being a 'Best For The World' honoree in this category means that we are among the top 10% of all certified B Corps in the 'Environment' category worldwide.
In this category, the environmental performance of a company is evaluated based on facilities, materials, emissions and the use of resources and energy. The recognition is a celebration of our continuous and consistent efforts in the field of sustainability and innovation. Sustainability is not a trend, but a necessity for our company, the world and its future generations.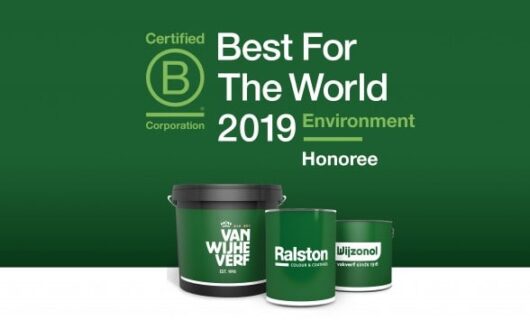 Since Royal Van Wijhe Verf became the first chemical company in the world with a B Corp certificate in 2016, we have been awarded 'Best For The World' in 2017, 2018 and now in 2019. This heightens our yearly ambition to set new and progressive goals. For example, we continuously reduce the use of fossil raw materials through the use of biobased raw materials in our products; we reduce the amount of harmful waste by 10% per year and we invest in a new waste water treatment system to improve the separation of paint residues from our waste water. It is also our ambition to collaborate with more B Corp partners, because together we can achieve even more success.
'Best For The World' is awarded by B Lab, the global nonprofit that supports certified B Corporations in 'using business for good'. Today there are more than 3000 B Corps in 64 countries and 150 branches, all with 1 common goal: to give new meaning to success in business. B Corps meet the highest standards of verified social and environmental performance, public transparency and legal accountability to balance profit and purpose. Well-known B Corps include Ben & Jerry's, Dopper, Tony Chocolonely and Patagonia.